Bikes and Bags
Surly Long-Haul Trucker Touring Bikes (for both)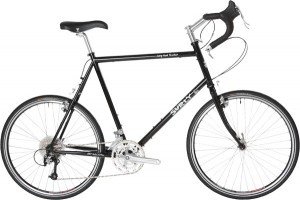 With 26-inch rims, bar-end shifters, and all steel construction these bikes are basic and sturdy. Surly offers this bike with simple components on the assumption that if something goes wrong in a remote area, you should still be able to find the parts you need to make repairs. We have been thankful for our 26-inch tire size on many occasions! At about 25,000 kilometers in, we have had no major issues with the bikes themselves. We have gone through five rims at this point, but rims wearing out (especially from the brakes wearing them) is a normal issue to have.
Schwalbe Marathan Plus Tires
The best recommendation we can make for cycle touring tires. These have been good to us. We did not buy them until we were on our way to South America, but once we had them, our number of punctures went down… signficantly. In fact, we put 8,000 kilometers on one set of these tires in South America, then continued on with them in Europe another 8,000 kilometers. In all of Europe, we only had two punctures. Amazing. We changed them out for a new set before departing for Asia. So far, we've not had any punctures in Asia.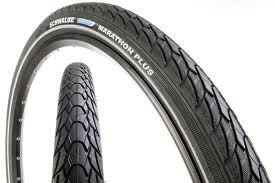 Tubus Cargo Rear Racks (for both). This steel rack is hard to beat when it comes to durability and reliability. Tubus even offers a two year warranty and will ship a new rack to anywhere in the world should it fail! We have had virtually no problems with our racks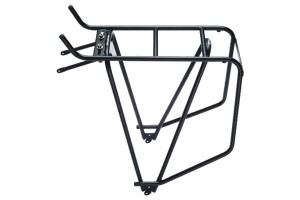 Tubus Tara Low-Rider Front Rack (for Dave, because he carries more gear!)
Ortlieb Bike Packer Plus Panniers (for both). Ortlieb has long been known for its great waterproof panniers. However, the most common complaint is that they do not provide any help when it comes to organizing the gear that goes inside… until now.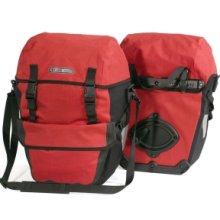 These panniers have additional pockets on the inside for small items that tend to get buried in the depths of the bag as well as a waterproof pocket on the outside for items needed quickly that need to remain protected from the elements. Because these bags close with a double draw string and a waterproof top they can be overpacked for occasional extra space.
Ortlieb Front Roller Plus (for Dave)
While this style of pannier does not have the external pockets that the Bike Roller Plus style has, they do have the added internal pocket for small items that tend to get lost.
Ortlieb Handlebar Bag (for Dave)
This bag is great for carrying our camera and other small things to which we need easy access.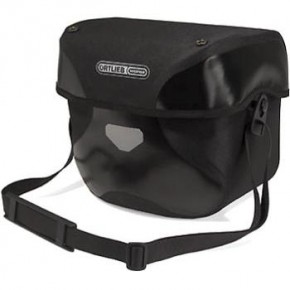 Banjo Brothers Handlebar Bag
We added this after riding about six weeks in the U.S. We decided it would be helpful for both of us to have a handlebar bag. We're not sure what we did before we had it! While Dave carries the delicate camera, Bethany carries other necessities to which we need quick access, i.e., toilet paper, hand sanitizer, iPods, the small camera, etc. Though not as sturdy as the Ortlieb bag, it has served us well.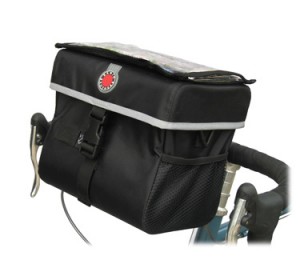 Camping Equipment
Tent: REI Quarterdome T3 (9 months);  REI Arete ASL 3 (current)
We started our World Tour with this trusty REI 3-man tent. We loved so many things about this tent, including the two doors, double vestibule, stealthy color and light weight.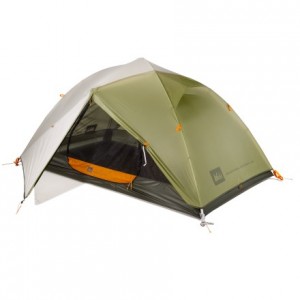 About 8 months into our journey, the zippers started to fail on the tent doors, and we began to reevaluate. If we needed to replace our tent, what would we want to be different?  We had already been talking about other tents we'd seen that had bigger vestibules, perhaps big enough to sit in for cooking. Also, we knew with potentially colder climates ahead in our journey, we might want a slightly warmer tent, as this one is a lightweight 3-season. And of course, we were looking for something more stout, not as lightweight, so the zippers would be tougher.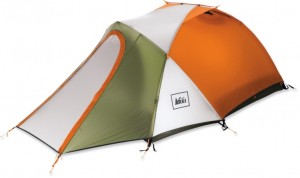 We decided on the REI Arete ASL 3. We cannot say we absolutely love this tent, but it has served us well. The one door is not as good for ventilation, and the vestibule is not as big as it appears in this picture. But since we were ordering this tent from Peru, we didn't have the luxury of setting it up and trying it out! Also, the orange panel is not ideal for stealth camping, and we've had some issues with extreme condensation, especially on the tent floor. It is tougher than our first tent, and it was great to have the warmth this tent offers when we cycled through winter in China.
We are also continually grateful for REI's amazing customer service, as they took back our old tent, no questions asked, and reimbursed us for having to ship it from Peru!
Stove: MSR Dragonfly
A great lightweight stove… it can burn any type of fuel, from white gas to diesel. We actually started our tour with the MSR Whisperlite Internationale, but in a strange turn of events actually lost it (long story). Fortunately, we were still in the U.S. and were able to get to an REI quickly to buy a new stove. We opted for the Dragonfly over the Whisperlite because of the additional valve that allows you more of a range with cooking temperature (the Whisperlite is basically on or off). We've enjoyed being able to simmer or turn things up to full blast if needed. However, please know that the Dragonfly is NOT a quiet stove! It makes quite a bit more noise than the Whisperlite. It also requires a bit more maintenance, and at times have had issues keeping it lit, particularly in windy conditions.
REI Non-Stick Cookware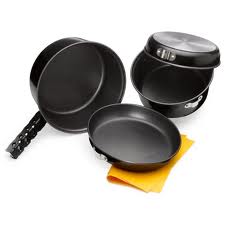 These pots (with their lids that double as skillets) have been great. Only complaint is that our handle wore out after about 15 months of continuous use. We replaced it, but had to order it from REI back in the States, as it's not easy to find overseas.
Sea-to-Summit X-bowls (2). These collapsible bowls are great because they do not require very much space.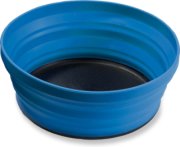 Sleeping Bags & Sleeping Pads
REI Polar Pod (for Dave) & REI Aura Bag (for Bethany)
ThermaRest Sleeping Pads
Crazy Creek Camp Chairs (2)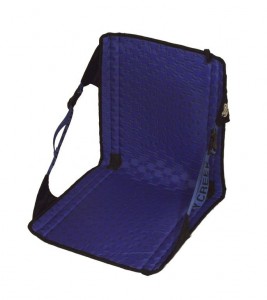 "Chairs?! You're carrying chairs?" This is the response we often get from other touring cyclists we meet when we reveal these luxury gear items. While not an essential for many bike tours, we have LOVED having our chairs and wouldn't do another trip–particularly this long–without them. They are great for reading at our campsites and especially for cooking our evening meals, which we do whether we are camping or not. Why sit around straining your back? These chairs fold down flat and fit easily under our other camping gear securely stowed in our bungee straps.
Other gear:
Patch Kits
Spare Inner Tubes
Tire Pump
Bicycle Tools
Sony Shortwave Radio
First Aid Kit
Clothing*
For Him
Riding:
3 short-sleeved cycling jerseys
3 pairs cycling shorts
1 long-sleeved jersey
1 Patagonia fleece
1 pair tights
1 Gore-tex rain jacket**
1 pair Gore-tex rain pants**
4 pairs cycling socks
1 skull cap
Fingerless gloves
Cold-weather gloves
1 pair Shimano cycling shoes
Other:
1 button-down shirt (convertible between short & long sleeves)
1 pair of pants (that zip off into shorts)
Necessary undergarments
1 pair Keen Newport shoes
For Her
Riding:
3 short-sleeve cycling jerseys
3 pairs cycling shorts
1 long-sleeved jersey
1 REI fleece
1 pair tights
1 pair Gore-tex rain pants**
1 Gore-tex rain jacket**
Fingerless gloves
Cold-weather gloves
1 skull cap
3 pair cycling socks
1 pair Shimano cycling shoes
Other:
1 REI Knit "Touring" Dress
2 t-shirts
1 pair Nike running shorts
1 pair North Face pants (convertible to capris)
Necessary undergarments
1 pair Keen Newport shoes
*While our "normal" non-cycling clothes seem to be holding up alright, the shorts and jerseys we wear everyday are showing their age. Our gloves are tattered, our socks have some holes and the shoes… well, they've seen better days. We are working to make things last as long as possible, since cycling clothes are not inexpensive! The reality is, even if you buy the "nice" stuff to start, there's not much out there that can survive the kind of UV exposure we're giving it.
**We purchased the Gore-tex rain gear while in London. After a year on the road, we declared our old pants and jackets "dead." They were no longer protecting us from rain. The Gore-tex, while expensive, has been a great investment and does the best job of anything we've tried.
Electronics
The Nikon D5000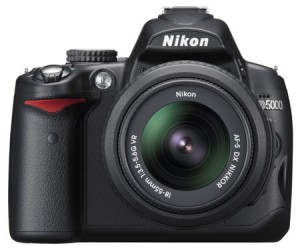 Toshiba NB505 Netbook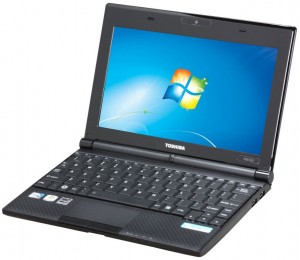 Amazon Kindle
This was a gift from Bethany's mom for Dave's birthday last year. A wonderful option for bicycle tourists to keep us from having to carry loads of books, which add up quickly in weight.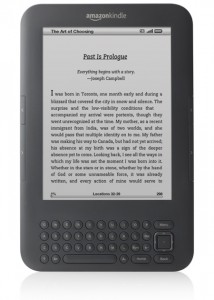 Kodak PlayTouch
Another gift from Bethany's mom! A handy little camcorder and camera that is easier to pull out on a whim when we just want to snap a quick photo or video.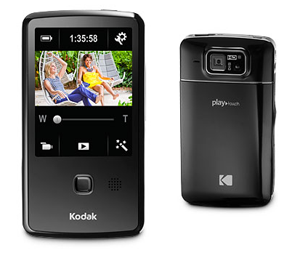 Just for Fun
We decided to make a list of all the gear that has been lost, stolen or destroyed along the way. As we started, the list grew and grew… somewhat alarming really! Here it is:
LOST:
One headlight
One Pair of sunglasses (Dave)
Four water bottles
One stove (long story, but yes, we lost it)
One pot pad
Two pairs of cycling socks (with laundry service)
One Brooks saddle waterproof cover
One dish towel
One t-shirt
STOLEN:
One pair of SmartWool socks
One HALT dog pepper spray
DESTROYED:
One helmet (Bethany dropped the bike on it—not from a crash)
Two water bottles
One tent (the zipper)
Two Sea-to-Summit dry sacks
One Topeak saddle bag
One pair of sunglasses (Bethany)
One set of rain gear each
Four pairs fingerless gloves (two each)
Three rearview mirrors (all Dave's… Bethany has her original)
One pot handle
One blinkie light
Several socks and cycling shorts
Dave's cycling computer/odometer
We won't include in this list actual cycling equipment, like rims, brake pads, inner tubes, tires, etc. Just know it's a lot!