I've been listening to Andrew Peterson's Counting Stars these days on my iPod, and the lyrics to this song resonate deep in my soul. Sure, in a literal sense, Dave and I are "world travelers," just as I had often dreamed of becoming. But aren't we all on a journey of some kind?
I've been thinking about how we all have different dreams and adventures that evolve through the seasons of our life. Dave and I have friends who are dreaming about adoption and praying about what that might look like for their new family. Other dear friends are making their dream a reality by living in Asia and simply loving people there the best they know how. I have a friend who, in faith, bought a one-way ticket to New York to see what doors would open for her there.
And while all of our "travels" are different, they are all adventurous in their own rite. This also gives me hope as we think about the season after this journey. What will our life look like? We're not sure, but we know the adventure doesn't end when we get off the bikes. In fact, in some ways, that's where it begins. We camped near an English couple in Argentina, and while we were talking with them, the guy said something that really stuck with me. ¨It´s not just about the trip, though right?" he said. "It´s really an opportunity to change your life and do something different.¨ It´s true… we hope the journey itself will change us. We hope that when we return we won´t be the same. And we hope we have the courage to imagine a different life than the one we led before. We still don´t know what that looks like, but we´re having fun dreaming and talking about it.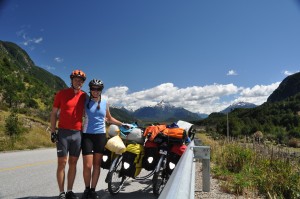 World Traveler (Andrew Peterson)
I grew up in a little town, A southern mix of lost and found, where most folks seem to stick around
But I could hear the highway song, I'd sit out on the dock till dawn, and dream about the great beyond
I dreamed that I was a world traveler, Set me loose to find my way
Just get me out on the road someday, with my sails unfurled
So many mysteries I wanted to unravel, if I could travel the world
Soon enough I had my way, I saw the world the Lord has made, mostly from the interstate
But I had hardly seen a thing, until I gave a golden ring to the one who gave her heart to me
And I became a world traveler, That's the day I hit the road
'Cause I walked the hills of the human soul of a tender girl
I'm a world traveler, she opened the gate and took my hand
And led me into the mystic land where her galaxies swirl
So many mysteries I never will unravel, I want to travel the world
Take a left at the end of my street, Just a few doors down
Up the hill and into the trees, There's a hole in the ground
Where we traveled the caverns so deep, we wandered the wonders so wide
It was right beneath our feet all this time
Tonight I saw the children in their rooms, little flowers all in bloom, burning suns and silver moon
And somehow in that starry sky the image of the Maker lies right here beneath my roof tonight
So hold on tight, I'm a world traveler, Pack your bags and dig down deep
Let's ride the storms and sail the seas to the distant pole
I'm a world traveler into these uncharted lands
To blaze a trail in the vast expanse of the heart and soul
In the grace of the God of peace let's wade into the battle
Come on, come on with me and get up in that saddle
There's a million mysteries I never will unravel
Come on let's travel the world.